Cunning, beautiful, and the ultimate survivor of the horrors of fame, actress Drew Barrymore has had quite the acting career now at 46 years old. On April 13, Barrymore got candid with actress Demi Lovato about Lovato's struggles with fame and being in the spotlight at such a young age. Barrymore mentioned she could relate to Lovato's recent documentary Dancing with the Devil, which detailed the young actress' time in and out of rehab and how she reclaimed her sobriety after a scary overdose in 2018. With a career spanning nearly four decades, Barrymore has come close to some devilish misfortunes herself, but what makes her life so tragic and inspiring at the same time? The answer comes with Barrymore's deep ties to Hollywood starting at such an early age.
At the age of five, Barrymore appeared for the first time on-screen with sci-fi film Altered States, released in 1980. The actress had a more than troubling upbringing with an abusive father who left Barrymore's family when she was just six months old. Her mother, Jaid, was an aspiring actress, sharing a similar dream as her father. With only her mother left to raise Barrymore, she was often found at Hollywood parties with her mother drinking, and she has admitted that even at the young age of seven, she was combining alcohol with ice cream.
At 13, Barrymore was spiraling out of control, drinking, cutting herself, and ultimately getting institutionalized by her mother. "It was like serious recruitment training and boot camp, and it was horrible and dark and very long-lived, a year and a half, but I needed it. I needed that whole insane discipline," Barrymore told The Guardian in 2015. This is the same girl who appeared in 1982's E.T. The Extra-Terrestrial and Stephen King's Firestarter. At almost 50 years old, Barrymore is running her own makeup company, Flower Beauty, and has her own talk show, The Drew Barrymore Show, which started last year.
The actress first married in 1994 to film producer Jeremy Thomas, whom she divorced only 10 months later. Next came actor/comedian Tom Green which again only lasted a little less than a year. From 2012 to 2016, she was with actor Will Kopelman where she says she took the divorce hard. Yet through it all, Barrymore remains her usual bubbly, carefree, happy self I can never get enough of. Although she's no stranger to tragedy, she's no stranger to comedy, either.
You could say Barrymore is well affiliated with comedy after working with Adam Sandler on three movies: 50 First Dates, The Wedding Singer, and Blended. "We have made three films now over the course of 20 years and I love him today as much as ever," said Barrymore in a Vanity Fair video. Many fans wonder if the two ever made the on-screen chemistry real to which they both deny, but their witty, funny camaraderie is impeccable.
The actress has supported many causes over the years including ASPCA, St. Jude Children's Research Hospital, and UNICEF. Last year, Barrymore donated $1 million to No Kid Hungry after partnering with spice company McCormick. With two daughters, Frankie and Olive, the actress has expressed how important supporting children around the world is to her: "I think maybe the universe was preparing me to have a relationship and care for and a dedication with children so that I would be a better mother," Barrymore said in a 2016 Parade article.
Barrymore's acting career has consisted of various roles, including Dylan Sanders in 2000 Charlie's Angels, Casey Becker in Wes Craven's original Scream, undead realtor Sheila Hammond in Santa Clarita Diet, and my personal favorite Karen Pomeroy in Donnie Darko. Her talk show has been renewed for a second season, and CBS News recently announced she'll be getting her own magazine. The magazine will be named "Drew" and will focus on topics discussed on her talk show and general beauty, food, travel, and other topics. "I hope this little collection of pages brings you joy and provides some escape from everyday life," Barrymore said in a recent People Magazine article.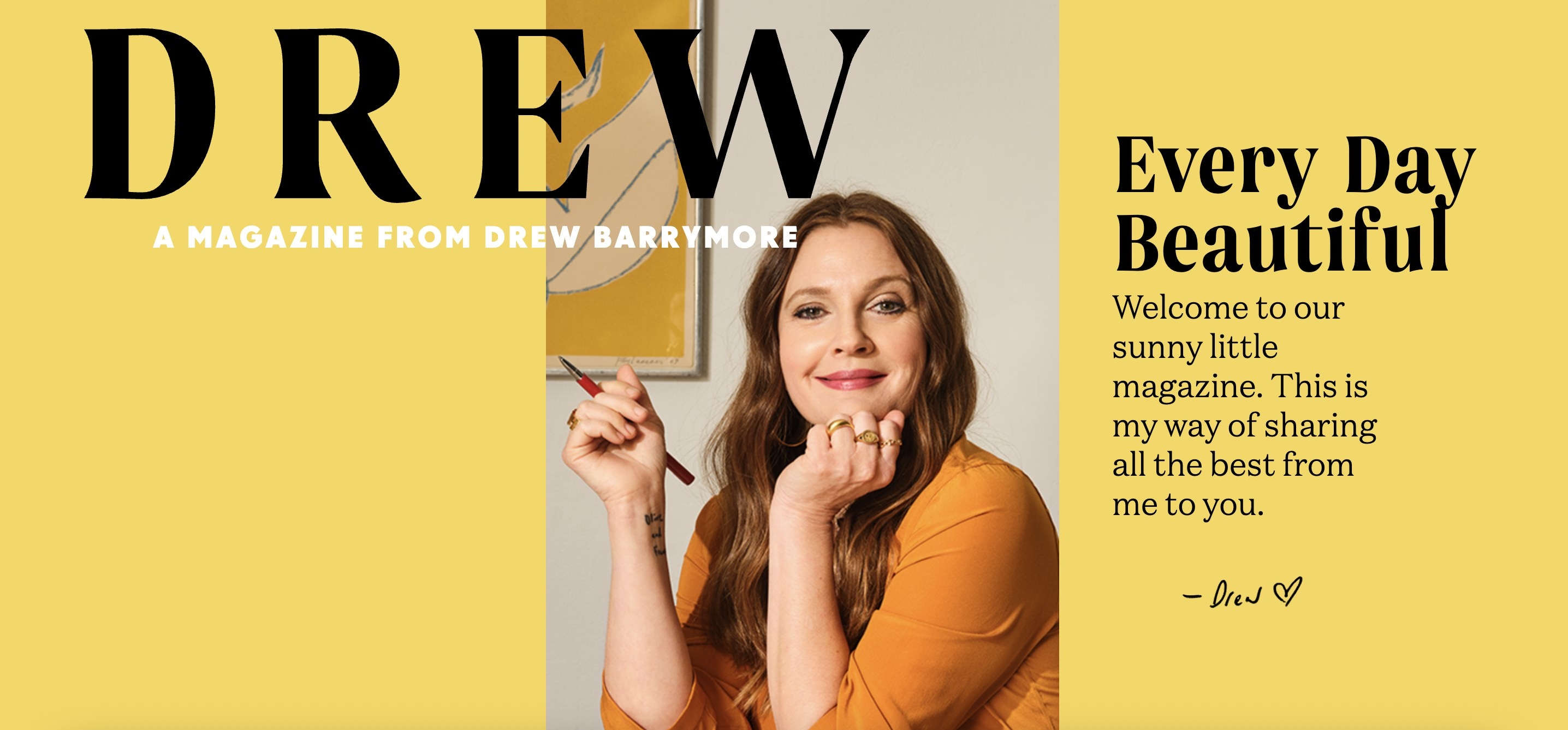 Barrymore was there to confirm this and said although acting is not out of the question for her, her kids have to come before anything else. She mentioned working on a set would be around 4 a.m. to 11 p.m. and was not a suitable work schedule for being a mother. "I wanted to be a mom that raised her kids. That was front burner; there were no exceptions for me."
---
Sources: AV Club, CBS News, Celebretainment, E!Online, Flower Beauty, Hello Magazine, IMDB, Look to the Stars, Parade, People, Popsugar, Showbiz Cheat Sheet, The Drew Barrymore Show, The Guardian, The Hollywood Reporter, Women's Health Magazine, YouTube
Images: Buzzfeed, New York Post
Featured Image: Facebook
---

For more entertainment related content, visit us at Byte BSU!
Comments