The opinions and views expressed in this article are those of the author and do not reflect the opinion of Byte or Byte's editorial board.
A world dominated by advanced technological progress/prowess, invasive corporations industrializing the planet to catastrophic levels, and millions of volumes of new information flooding the digital landscape every second. Sound familiar? No, pointing outside your bedroom window is not the correct answer (at least not yet). I am talking about cyberpunk; a subgenre of science fiction exploring dystopian futures filled to the brim with neon billboards stretching into the stratosphere and cybernetic enhancements that make you more machine than man.
The history of this hauntingly accurate depiction of present-day life on earth is chock full of inspiring authors, filmmakers, and characters dating back to the late 1960s. With the launch of what might be an entire generation's first foray into this style of storytelling, here are a few movies that will prepare you for the world of Cyberpunk 2077.
Blade Runner
While each of these theatrical experiences can be considered a cornerstone of the cyberpunk genre for their trappings of low life and high technology, Blade Runner can be traced back as the one that started it all. This adaptation of Philip K. Dick's novel Do Androids Dream of Electric Sheep? is set in Los Angeles in the year 2019; over 30 years after the movie premiered in 1982. It follows former police officer Rick Deckard (Harrison Ford) as he is coerced into tracking down and "retiring" four illegal replicants that have made their way to Earth from a slave colony on another planet. Over the course of the film, Deckard must investigate the whereabouts of each replicant and navigate the philosophical questions concerning our humanity raised by the criminals themselves.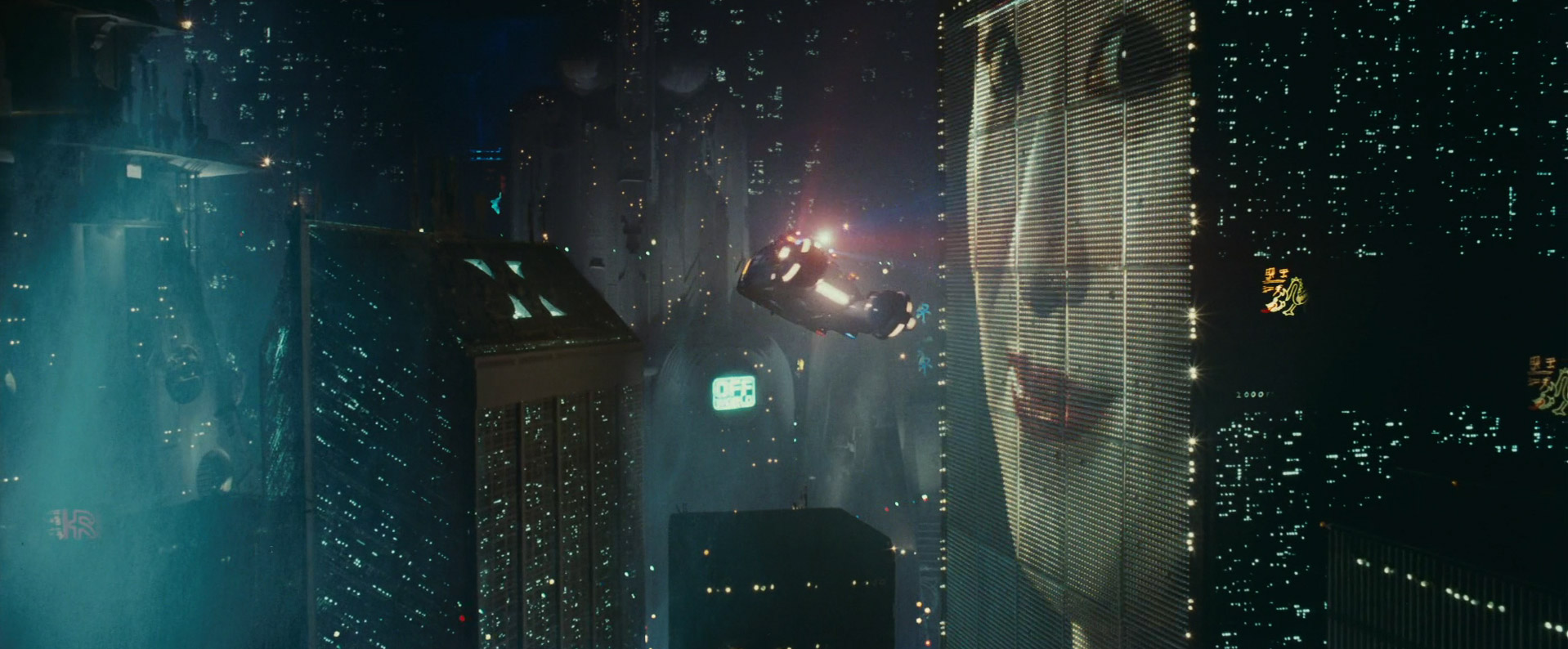 While there are plenty of aspects of this classic science-fiction-meets-film-noir that have not aged particularly well–Ford and Sean Young's performances and the often ridiculous action–there are plenty of incredible features that still hold up. The technicolor dreamscape that is Los Angeles, advanced camerawork far ahead of its time–thanks to director Ridley Scott– and the atmosphere of smooth jazz oozing from every frame is a feast for the eyes and ears.  However, the best part about Blade Runner is in the themes and dialogue not given overt screen time, such as transhumanism, free will, and sentience. This film will make you ponder what makes us human, how we preserve that humanity after discovering the next step in our evolution, and what separates us not from animals, but from machines. Just try not to get confused over which version you are watching though.
Akira
Released only a few years after the original Blade Runner, but a whole heck of a lot stranger and more grotesque, is the highly influential Japanese animated film Akira. An adaptation of Katsuhiro Otomo's manga of the same name, Akira is about gang leader Shotaro Kaneda (Mitsuo Iwata) as he maneuvers through the sprawling megalopolis of Neo-Tokyo. Thirty-three years after nuclear destruction levels most of Tokyo and concludes World War III, the city has witnessed unprecedented growth. However, after years of political unrest, police becoming militarized, and nonstop protests by citizens, the population is in complete disarray and destruction on an epic scale is imminent. At the same time, parliament is conducting research on espers in a psychokinetic laboratory that Kaneda's friend Tetsuo Shima (Nozomu Sasaki) gets violently dragged into before his extraordinary powers consume him and eventually the city itself.
Much like Blade Runner, Akira is seen as a major inspiration in the world of Japanese anime and the cyberpunk genre as a whole, leading the second wave of anime obsession in the west starting in the late 1990s. A passing glance at one frame from the film is evidence enough with incredible neon highlighting and vibrant detail that surpasses anything that came before it. The surreal architecture and sound of 2019 Japan embeds you in an ethereal urban jungle. While much of the symbolism surrounding espers, psychokinesis, or dreams are never properly explained and are still pretty confusing almost 25 years later, the industrialized city being throttled by an oppressive regime will look eerily familiar to any viewer. If you prefer the written word over trippy visuals, the six volumes of the manga give a much deeper explanation to Tetsuo and Kaneda's journey and it might not be long before they arrive on the silver screen and television screen once more.
Ghost in the Shell
Jumping out of the influence of the 1980s and straight into the tumultuous decade of the '90s, you would be hard-pressed to find another cyberpunk inspiration from this era better than Ghost in the Shell. Much like Akira, Ghost in the Shell is based upon a manga of the same name — written by Masamune Shirow – but beyond that there are an incredible amount of differences that allow Ghost to stand out. The story follows Major Motoko Kusanagi (Atsuko Tanaka), leader of an assault team in section 9 of New Port City, Japan in the year 2029. By this time, computerization has taken over most of our reality resulting in increased expansion and a successful aversion to humanity's destruction. After the assassination of a foreign minister, Kusanagi chases down an international ghost hacker known as "the puppetmaster" while navigating diplomatic squabbles.
The design of Ghost is very reminiscent of other popular anime of the 1990s, like Cowboy Bebop, as the old world feels smashed up against the technology of a new generation creating a muddy, compressed, polluted wasteland. The animation is also off the charts thanks to director Mamoru Oshii, cinematographer Hisao Shirai, and screenwriter Kazunori Ito, along with 3D and computer graphics technology never before seen. However, the beauty of Ghost in the Shell is truly felt through the implications of its story. Much of the movie explores our collective definition of consciousness, free will, and destiny along with pondering if life can be born from information alone. Kusanagi, an augmented consciousness herself, must come to terms with the ethics of her humanity and recognize her own existence.
If any of that sounds interesting, there are multiple sequels and spinoffs to the original 1995 film. Of course there is the controversial live-action picture starring Scarlett Johansson, but plenty of animated series have been released as well including Ghost in the Shell: Arise and Ghost in the Shell: SAC_2045, both of which are available to stream on Netflix.
Dredd (2012)
Now if what you are searching for is not an emblematic exploration of humanity's struggle with artificial intelligence in the near future or you are more interested in the insane gameplay and action of Cyberpunk 2077, then Dredd (2012) should answer your desires. In a fractured and irradiated United States of the future, Judge Dredd (Karl Urban) enforces the law as judge, jury, and executioner in the largest city on the east coast: Mega-City One. While training Cassandra Anderson (Olivia Thirlby), Dredd is sent out to investigate production of a new narcotic and fights through a 200-story slum tower block to get to drug lord "Ma-Ma" (Lena Headey).
If there is any movie that epitomizes everything Night City will offer players, it is the seedy, gruesome world of Dredd. Mega-City One is a brutal and industrial metropolis with a decent amount of violence. The soundtrack–composed by Paul Leonard-Morgan, who just so happens to be credited for Cyberpunk 2077–is killer, the judges' "Lawgiver Mk. II" is a beast of a weapon with seven different firing modes, and the gritty atmosphere is the exact thing every player needs to check out before hopping into what is sure to become their next obsession. While the trippy visuals of the 2012 edition of Dredd are really all you need from the series, there is always the Judge Dredd comic book and the very dated original 1995 film starring Sylvester Stallone, which definitely shows its age and not in a good way.
Blade Runner 2049
Finally, if you got through all of those staples of cyberpunk and still want more, this might just be the most recent example of a great cyberpunk narrative that also outshines its predecessor in every way. Blade Runner 2049 continues 30 years after the mystery surrounding Deckard and his escape with love interest/replicant Rachael (Sean Young). The sequel follows a new replicant named K (Ryan Gosling) who has replaced the old human bladerunners at the LAPD. After discovering the remains of a female replicant that may be proof that biological reproduction is possible amongst artificial life, K must track down the missing miracle child while staying one step ahead of the bloodthirsty Luv (Sylvia Hoeks) and Niander Wallace (Jared Leto), the successor to the Tyrell Corporation.
While the premise of 2049 feels much more plausible than the original – a billionaire technocrat emerging as the savior of the human race, any sliver of human interaction by only virtual means, and continued unethical innovation – it remains as a feast for the eyes. The Los Angeles of 2049 is much more atmospheric, but with a lot less whimsy as the vibrancy of the original remains. 2049  aligns itself with new standards of bleak and raw industrialism. The plot will also keep you right on your toes guessing the conclusion to this detective story until the very end while questioning what constitutes "humanity." Not to mention the stellar performances by Gosling, Ford, Leto, and Ana de Armas.
Now after binging each of these selections for hours, you are probably going to be very burnt out on cyberpunk and not willing to step away from CD Projekt Red's newest RPG for a few days or even weeks. However, if you do find the time to put the controller down and are still itching to explore this vast collection of novels, anime, and even manga, I have included a shortlist of other excellent pieces of media rife with cyberpunk influence.
Others
Battle Angel Alita (Manga; 1990-1995) and Alita: Battle Angel (Film; 2019)
Johnny Mnemonic (Film; 1995)
The Matrix Trilogy (Film; 1999-2003)
Cowboy Bebop (Anime; 1998)
Psycho-Pass (Anime; 2012-2013)
Altered Carbon (Netflix Original; 2018-2020) and Altered Carbon (Book; 2002)
Love, Death & Robots (Netflix Original; 2019)

Particularly these episodes: 'Sonnie's Edge,' 'The Witness,' 'Zima Blue'

Deus Ex (Video game series)
Deus Ex: Invisible War (2003)
Deus Ex: Human Revolution (2011)
Deus Ex: Mankind Divided (2016)
Total Recall (Film; 1990)
---
Sources: Anime News Network, Deadline, Merriam-Webster, Screen Rant, Slate, Time, Vice 
Images: Amazon, IMDB, Imgur, Pinterest, ScreenMusings, The Original Underground,
Featured Image: Steam
---
For more entertainment related content, visit us at Byte BSU!
Comments