by Kellyn Harrison To many Esports fanatics, Eefje "Sjokz" Depoortere is someone many people—especially women—look up to. Whether it be her large presence and voice within the gaming industry or what she signifies for their professional ambition, over the past 20 years, Sjokz has paved the way for many young voices in the gaming industry who wish to fill her big shoes.
Finding Her Start
Even though many would argue that Sjokz was the reason the Esports community has grown as fast as it has, Sjokz strongly argues this is not the case. In a workshop held by Ball State's CCIM, Sept. 23, Sjokz stated that it's hard to believe she has had an influence in the major growth of the Esports platform, despite always being there for the major parts and events that took place. It is obvious there is a relation between her and everything that was/is going on in the Esports movement, but she credits this in part to her own success instead of the success of the Esports community. The luck of becoming a large public figure is something that she didn't believe would ever be possible, without the Esports industry growing alongside her or her establishing her career in journalism when she did.
After graduating from Ghent University with a master's degree in history and journalism and a teaching degree, Sjokz wasn't sure what she wanted to do. It wasn't until 2011 when she began spending most of her time playing video games and realized how to put her journalism degree to the test. In the workshop, Sjokz stated she had exposed herself to Esports journalism after writing many letters to media companies asking them to put her on their teams as a professional League of Legends reporter. When Sjokz began freelancing for SK Gaming and ESFI World, she started to push going to events and speaking professionally in front of the camera. Even though this was not her original intention because of the pressuring societal implications, it ended up showing the world more of the humble, funny, and hardworking person we see today.
Breaking Barriers

When Sjokz first started reporting in front of the camera, she knew she would have to acquaint herself with the different types of feedback she was going to receive from her peers and the world. Sjokz stated she had to learn how important social media was in talking to fans directly, even though it can be scary because there are many haters out in the world. "It is just a part of the territory," justified Sjokz. However, from the beginning of Sjokz's gaming career, she knew the Esports community was very vibrant and diverse. Therefore, she couldn't let the haters on social media hold her back from connecting with the community she loved. In doing so, Sjokz said she "always found the connection to always be positive."

"The negative can be louder and more emotional," continued Sjokz, "Just focusing on the positive is more important."

[caption id="" align="alignleft" width="328"]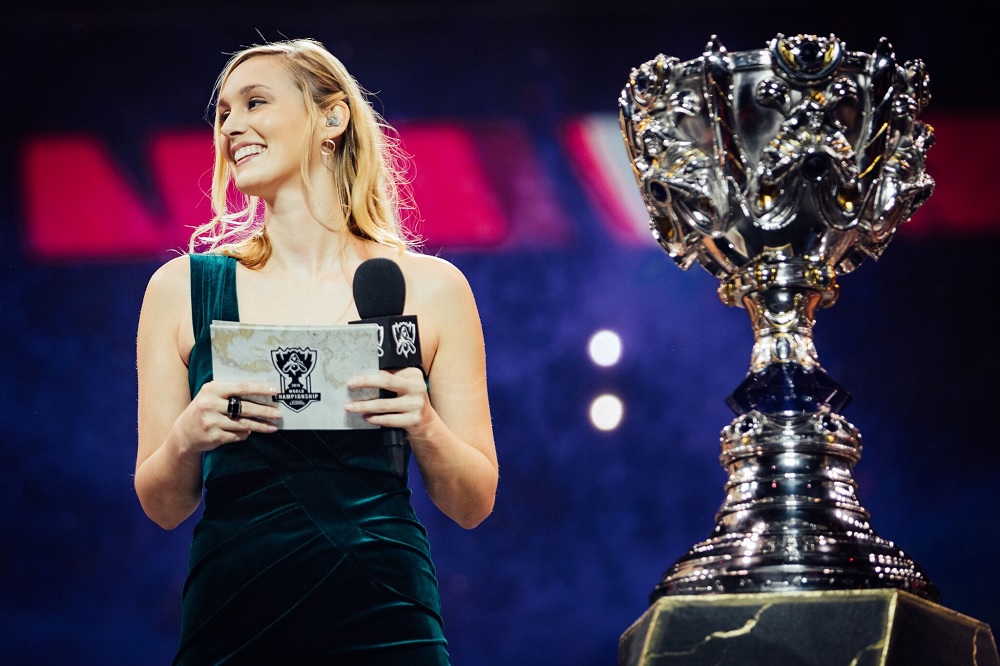 Image from
ESPAT Media
[/caption]
This can be translated into how Sjokz handled the constant pressure to change her career choice. Sjokz stated she had to convince many people (parents, the job agency in Belgium, etc.) that this job still matters, even though people kept saying otherwise. "It is important to think about the main talent and passions you have, but it also comes down to hard work. You can start doing something and it can turn into something bigger—in Esports, work, and life in general," pushed Sjokz. "You must keep evolving, especially in a world of Esports, where it is constantly evolving. You must understand that you can continuously grow in order to keep achieving your goals and passions."
Sjokz learned this within her first couple years of broadcast reporting. It was very hard for Sjokz to openly be who she wanted to be because she did not feel confident under the gaze of the world. Sjokz described wanting to be the perfect host—to be exactly what she thought producers wanted her to be. Sjokz thought the programs wanted her to be this "cookie-cutter" host, but she realized that didn't make any sense: the audience must be able to connect with who is being interviewed, what is being said, and who the interviewer is in order to build a sense of trust.
Furthermore, it was important to Sjokz to connect with the vibrant community she fell in love with while getting her start in Esports. This is why we can connect with her now: Sjokz slowly began putting her own "flare on things," like roasting people and being more emotional and personal in interviews. Sjokz stated that in her occupation, "you must understand that you are making content for a broad group of people. You must make your narrative driven toward many different types of people" (Sjokz is referencing newer members, the fans of the subject matter, continuous viewers, etc.).
A League of Her Own No More
What sets Sjokz apart from other Esports hosts and reporters is the large audience she connects to. Among other female hosts, Sjokz presents herself as a leading figure for women and young girls in the gaming industry. Sjokz shows women looking up to her that achieving one's own professional ambitions is possible for anyone, no matter the gender. This is something that's exclusively important in an industry that has been viewed as predominantly male. But, the Esports community has expanded as the number of women involved in the industry has grown.
However, there is still some stigmata involved in the industry that can be deterring to some. Sjokz explained her journey of having to prove herself more than her male counterparts in order to be viewed as capable. But, Sjokz makes sure to express that she does not "let others' misogyny of [her] define [her]" and what she chooses to do with her life professionally. Sjokz was relieved to point out how more people in the industry are calling out sexism, but made sure to note that it could always be better. Sjokz feels like "an image of the improvement that can be made," especially when young women in the same position as Sjokz was 20 years ago are looking up to her for hope and guidance in their own professional endeavors.
Featured Image:
Gurugamer
Images:
ESPAT Media
, Kellyn Harrison
Comments