Other Members of the Let Me Out Family:
Yeah Yeah Yeahs: "Heads Will Roll"
RJD2: "Work"
Massive Attack: "Tear Drop"
The highly anticipated and hyped Gorillaz album Humanz gained even more clarity with the release of "Let Me Out", the fifth single to be released by the UK project since the end of March. As with most Gorillaz songs, "Let Me Out" featured guests both obvious and nontraditional for the genre with hip-hop artist Pusha T, and blues legend Mavis Staples. "Let Me Out" is a masterful conglomeration of three independent and extremely successful musicians that came together to produce Gorillaz most radio-ready song since Plastic Beach's "Rhinestone Eyes."
Structurally, "Let Me Out" starts out quietly, featuring a static white-noise construct that props up Pusha T's opening vocalizations and allows for a steady, utilitarian beat. Staples makes her presence known on the song's defacto chorus, where she provides some grit to the piece with her rough, blues-inspired deliveries. Damon Albarn, the soul consistent musician in Gorillaz, isn't as present on this track as on others. His vocalizations sound almost muted and distant. It's apparent that this particular Gorillaz song was more an avenue to showcase the groups synthetic and instrumental abilities, and not their vocal ones, hence the prominence of Pusha T and Ms. Staples. "Let Me Out" operates as a dance ready hip-hop fusion piece with political and social undertones. The distorted and haunting "Let Me Out" verse grounds the song and doesn't allow the listener to get swept up in synths and inherent revelry.
Pusha T's performance on "Let Me Out" is truly remarkable. His rhymes and his beat-conscious delivery propel the song to the top of the Gorillaz pyramid. Mavis Staples's work on the song reminds listeners just how versatile and surprisingly accessible she can still be after so many years. Her measured yet confident delivery and lyricism give the song the maturity and credibility that it would have lacked had they decided to go with another vocalist.
The song's sound is very Gorillaz yet slightly more pop-ready. The barrage of diverse vocalists and distortions should not distract from the fact that this is one of the more traditional and straightforward Gorillaz songs to date. Aside from Staples's gruff and soulful contributions, the song features no lo-fi or bare instrumentation. "Let Me Out" is a polished, well-mixed dance ballad with a hint of politicization.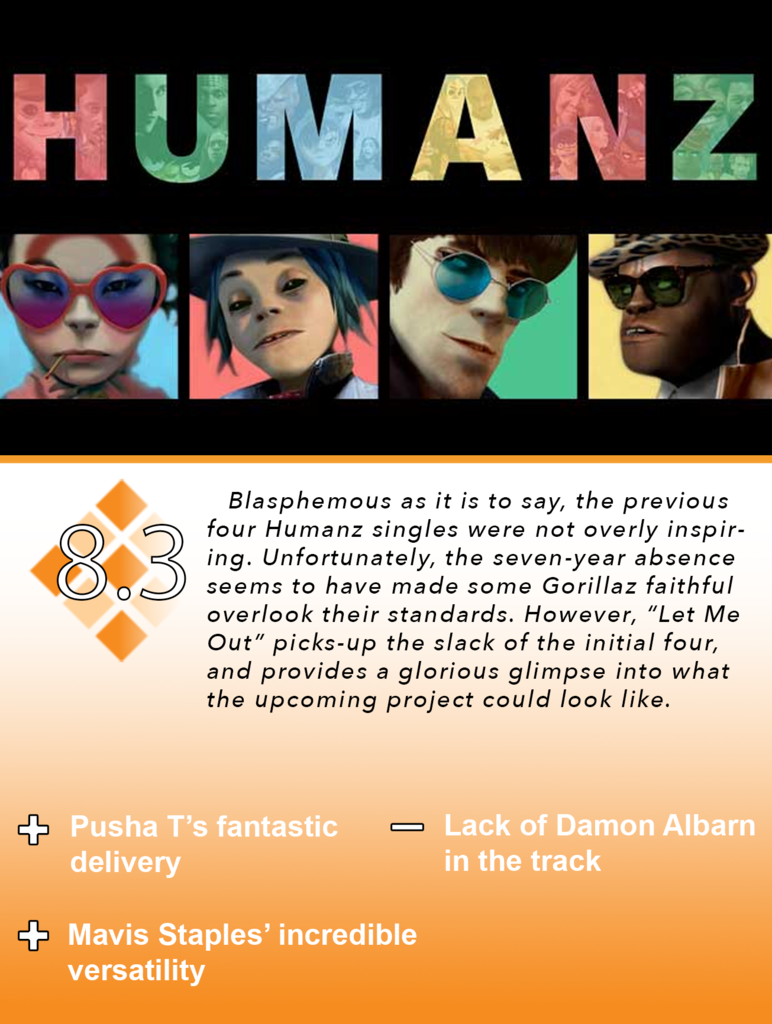 All Images From: Nerdist
Graphic by: Daley Wilhelm
For more entertainment related content, visit us at Byte Bsu!
Comments