Top Tracks:"Amputation"
"All Things Pass"
"Mood Rider"
Other Members of the Damage and Joy Family:
Pixies: Head Carrier
Savages: Adore Life
Grandaddy: Last Place
The Jesus and Mary Chain have redefined the subgenre known as noise pop. Before their arrival to the semi-mainstream, the idea of fusing both noise rock and pop rock was an idea whispered about in basements and garages, but never acted on or partied to at bars and festivals. At their peak, The Jesus and Mary Chain were spoken about in the same breath as The Pixies and Grandaddy. Unfortunately, that peak happened in the late 80's and early 90's. Devoted followers of The Jesus and Mary Chain have been through a lot, from the unsurprising break-up in 1998, to the much ballyhooed reunion in 2007, and through all of the rumors and whispers of new material. Even with these rumors, the band only ever released compilation upon compilation of old material in the early 2010's. On March 24, 2017, long-time fans' patience finally paid off. Damage and Joy, officially the band's seventh studio album, is an exercise in nostalgia. Though the record contains several strong pieces, much of the album's superlatives come in the form of allusions to the band's heyday some twenty-five years ago. Many of the tracks off Damage and Joy contain obvious-to-subtle nods to past JAMC masterpieces. However, after nineteen years of virtual silence on the new music front, one may think that this release would be chocked-full of genre-defining material. Instead, JAMC came to the realization that their period of evolution has come to a close. It becomes apparent on this record that the musicians lack the usual spunk and attitude from previous releases. So instead of attempting to conquer a new genre or perform at the same level that they did in their twenties, the aged yet savvy musicians decided to create a record that pointed to such infamous works as Munki and Automatic, allowing the listener to either reminisce or discover the band's true identity.
Sound: Sounds "Just Like"… the 90's!
On their previous releases, The Jesus and Mary Chain concocted a sound from the noise rock of Sonic Youth, the punch of Dinosaur Jr., and the rhythm of The Stone Roses. All of their major hits were gritty, danceable, and drastically expressive. See "I Love Rock 'n' Roll" for a perfect example of this. On Damage and Joy, they maintain all of these characteristics but with a noticeable subdued air. The lead single, "Amputation" features much of the band's token grit and attitude but not to the level that tracks off of Darklands or Stoned & Dethroned were able to do. "Amputation" is a prime example of the band deciding to infuse more synthetic beats and constructs on the albums new tracks. This certainly provides for a slightly new sound but not necessarily in a way that enhances the overall experience of the album. The new electronicness of Damage and Joy instead diminishes the gritty and grimy feel that fans of JAMC have been used to.
Proponents of "April Skies" will find a kindred spirit in "Facing up to Facts." "Facing up to Facts" features an extremely dance-ready rhythm section that wouldn't be out-of-place on Darklands. On this track, the band does a splendid job creating a new piece, while still efficiently alluding to a previous hit.
Vocals: Reid on Reid
Fortunately, lead singer Jim Reid's voice hasn't yet completely combusted as a result of old age. Somewhat amazingly, Reid is able to maintain his dangerously alluring fervor despite the fact that he's 58. "All Things Pass", and "Always Sad", find Reid's voice in a familiar yet somewhat weathered state. He still sounds like a distant cousin of J. Mascis, except now he doesn't attempt to hit quite as many high notes as before. Melodically though, the Jesus and Mary Chain are still at their previous, pre-break-up altitude. The eighth song off the album, "Mood Rider" is the most complete yet nostalgic melodic experience: a four-minute expedition of the band's previous melodic creations, featuring allusions to such favorites as "Just Like Honey", and "I Hate Rock 'n' Roll."
Production: Reid lost a good friend in the reverb…
Concerning production, Damage and Joy sticks out either positively or negatively in almost no direction. The vocals, guitars, and synths are for the most part leveled, and distorted adequately for this record. One of the only critiques concerns percussion. The previously mentioned danceability of select tracks on this record is created completely through use of synthetic drum machines, not with an actual drummer. On other songs, the drummer is almost completely indiscernible behind the vocals and associated instrumentation. It nearly felt as if the producers of this album were afraid to feature a more prominent percussion section for fear of offending or dishonoring previous JAMC albums. The resulting sound is a mixture of Collective Soul and tame Jesus and Mary Chain.
The most noticeable omission is the lack of reverb. Reid's vocals are widely known for their dramatic reverberations and distortions a fact that helped groom JAMC as one of the premier alternative dance hall bands. This album includes virtually no dramatic reverb. Though Reid's vocals are occasionally enhanced and dubbed, there is no effective echo or atmospheric at play on this album. The lack of reverb is the only part of this record that does not make allusion to previous songs. The fact that reverb is absent is slightly confounding. Many times, older vocalists who supposedly aren't able to reach high notes as before will rely on the production tricks to make it seem as if they have the same vocal range as before. But alas, Jim Reid's vocals are not hidden, or enhanced, we get the true, unadulterated version of the 58-year-old Scott.'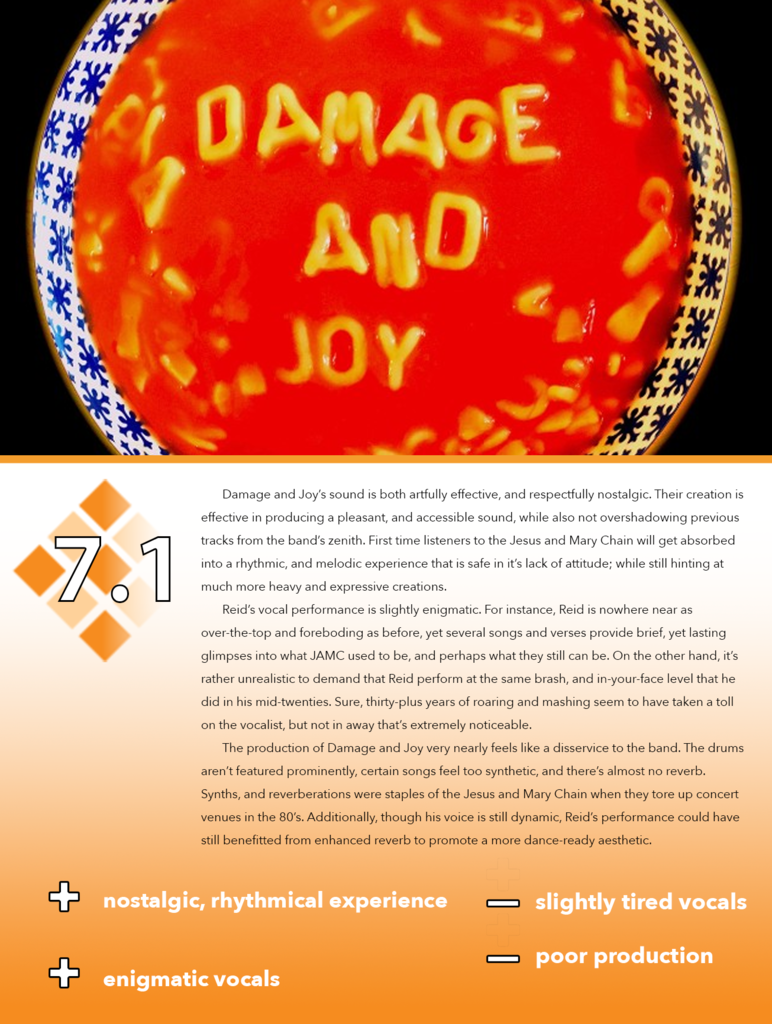 All Images From: Spin
Graphic by: Daley Wilhelm
Comments