After a student hosted a sit-in at the Board of Trustees meeting Friday, she's still hoping for more to come from it.
Trustee chairman Rick Hall allowed senior political science major Carli Hendershot to speak for the students at the meeting about transparency issues with President Paul W. Ferguson's resignation.
While she said she was happy about being able to speak for herself and for other students who want to know the details, she didn't feel like any progress was made toward transparency.
"We just didn't exactly get the answers we were looking for," she said.
Hendershot said she plans to set up an appointment to meet with Hall individually.
Hall opened the meeting Friday by declaring there is "no scandal, no other shoe is going to drop, no financial crisis, no emergency going to be revealed next week" regarding the resignation of President Paul W. Ferguson.
Still, students — a dozen who staged a sit-in at the meeting — wanted more.
See more photos from the meeting here.
A group of students gathered around Chairman Rick Hall after the meeting to question him on the lack on transparency and money concerns.
"We're paying money for [Ferguson] outside of his actual service," said Levi Todd, a sophomore English major. "I'm not denying he needs severance, but in the situation where he's breaking the contract, students deserve some explanation when we're paying so much money.
"No one creates a confidentiality agreement unless there's something to keep hidden."
Emily Barsic, a sophomore English literature major, said because Ball State is a public university and students pay taxes for it, they deserve some explanation.
"There's so much unrest, and we have a right to know," she said. "By not speaking about it, the university is saying nothing and it spreads rumors. We want to know because we want to be able to put our trust back into the university."
Hall reassured students that things aren't going to change.
"We're listening, we're doing the best we can," he said. "I know there's been concern or question expressed from all different levels — does the board really get that? Absolutely we do."
But Barsic didn't think he gets it.
"I know they say they're being transparent, but sometimes transparency hurts and sometimes you have to be a little vulnerable to be transparent," Barsic said. "And that's not what we're seeing."
Hendershot said she had mixed feelings after speaking her mind to the Board.
"While I do believe they [the board] are open to further discussion … it's all about the contract. They can't say much," she said.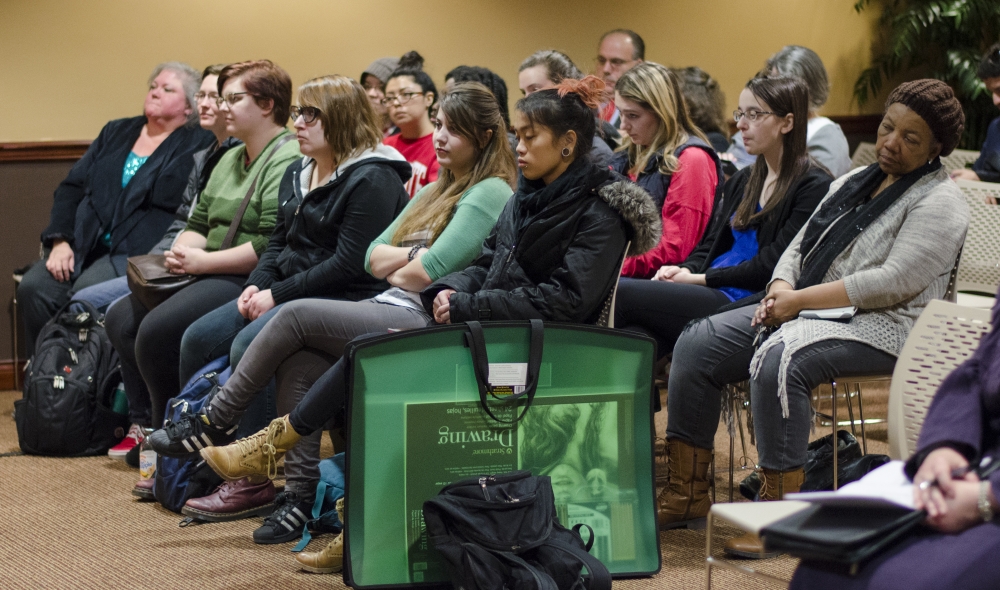 DN PHOTO BREANNA DAUGHERTY
Ryan Walstrom, a sophomore political science major, said he feels like the board was as transparent as they could be towards the situation.
While he too was wanting answers, Walstrom said he believes the issue lies in the privacy of Ferguson and his previous position as president of the university.
"He was a private individual with a public position, with the public's interest," Walstrom said. "I think there's a contradiction there."
While he said he knows the university probably won't become suddenly more transparent about this situation, he wants the information that is and isn't available to the public to be more specific.
Alyssa Vanskyock, a senior history and women's and gender studies major, attended the meeting without high expectations of learning much new information about the resignation.
But regardless of her expectations, she said she wanted to come to show support for Hendershot's cause and learn any details she could. The impact that Ferguson's resignation has had and will continue to have on students is something Vanskyock said she feels strongly about.
"Ball State is our home," she said. "We want to know what happens how it's going to affect us."
Vanskyock said she knows the current answers are "as good as it can get," but that doesn't mean she is content with how the meeting went. She said she's leaving the meeting "not at all satisfied" with answers about Ferguson.
"The speculations, the gossip – that's never going to stop," she said. "People just don't trust the bureaucratic system."
However despite the negativity of never getting all the answers she wanted, Vanskyock is looking towards the future and the possibilities for Ball State. She said she hopes with the new administration and president, a positive change will come about and lead to "new and exciting things."
Here is the footage from the Board of Trustees meeting on Jan. 29: