Ryan McClain// Photo Provided by Joe Krupa
As Delaware County deputies respond to calls across the county, one student is right with them filming all of the action.
Special Deputy and senior telecommunications major Ryan McClain, spends several days during the week riding along with deputies, filming their shift and calls they go on.
McClain was approached by Sheriff Ray Dudley after working on Unmasked: The Stigma of Meth, to produce a show, "like cops for Delaware County."
To film for the show, McClain spends several days a week riding with the Sheriff's office for the 8 hour shifts.
"It was big undertaking for sure and I was scared at first of 'wow how am I going to do this but here we go, we have two shows now,'" McClain said.
Besides the "Deputies of Delaware County" show, McClain is working with Sheriff Ray Dudley to produce a show on Facebook called "Sheriff Corner," where he picks a topic and talks about it.
Sometimes riding with the deputies means losing sleep, or not sleeping at all.
He decided to ride on the midnight shift one night, starting after his evening class and finishing just a few hours before his 8 a.m. class the next day.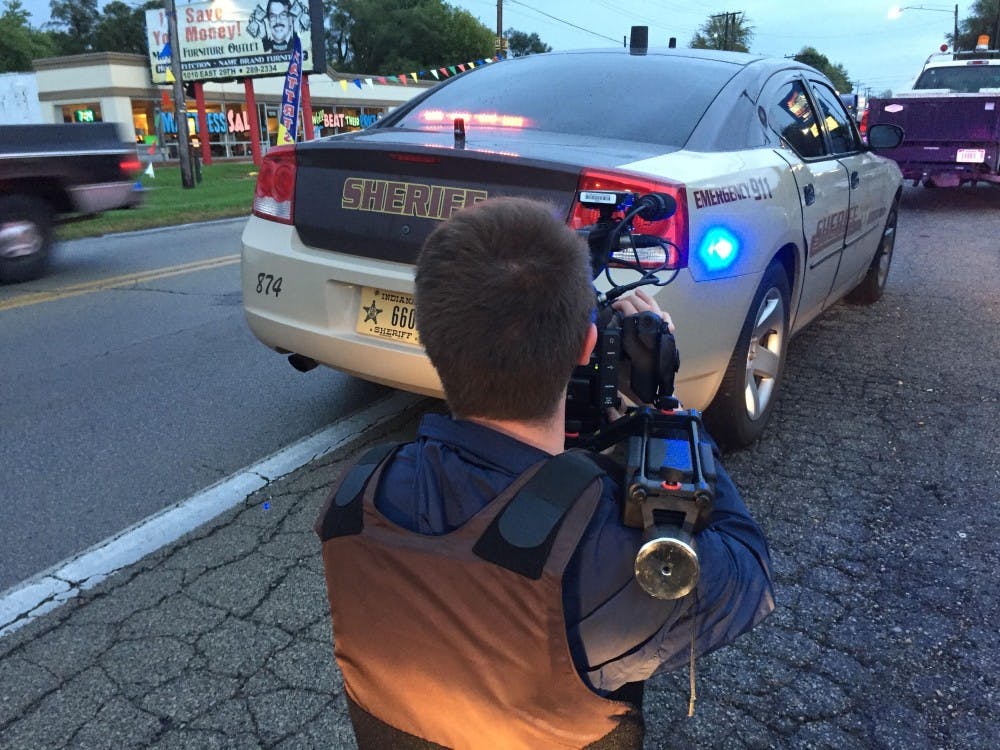 But it was worth losing the sleep for McClain. Deputies and McClain went out of the county for a bomb call and ended up getting into a pursuit in Delaware County.
One of the bomb squad members spotted a truck with its cargo lights on. The deputy thought it was a wrong way driver, but the driver started fleeing.
"We hear him [the officer in the pursuit] call it out on the radio that he has a truck not stopping for him and there we all go, every deputy in the county is heading off to a pursuit," McClain said, recalling the event.
The truck led deputies on a pursuit through Delaware County, eventually stopping at a dead end street in Muncie.
McClain was there with the deputies as they lifted the K-9 into the truck with their weapons drawn, capturing it all on video.
Both events were featured in the first episode of the show.
The job comes with risks and McClain always has his bullet proof vest on him in the event something goes wrong.
"Really I am not scared at all of what I am doing because I know I am being protected by the best and I am working with the best," McClain said. "Everyone I ride with because we spend so many hours together, we build this trust and friendship with them that you just know they are keep you safe if anything goes wrong."
Deputies of Delaware County has two episodes released so far and McClain said the third one is in progress.