From left: Jeremy Campbell, Larry Judge and David Blair. Ball State kinesiology professor led Campbell and Blair to their second consecutive sweep in the men's F44 discuss throw at the World Para Athletics Championships in London. Larry Judge // Photo Provided
Larry Judge and his athletes went into the 2017 World Para Athletics Championships with one goal – to sweep the competition.
And there was never any doubt.
In the men's discus throw F44, meaning the athlete has a lower limb deficiency, David Blair started the competition with what would be a silver medal throw of 62.47m while Campbell landed his gold winning throw of 63.66m in his sixth and final attempt.
The rest of the competition fell 5 meters of both of them.
"It's just one of those days that you don't get very often as a coach, but when you do get it, you really appreciate it," said Judge, Ball State kinesiology professor.
RELATED: Ball State professor coaching in third World Para Championships
Traveling to London was reminiscent for Judge. Maybe it was returning to the place where he first coached in the Paralympic Games in 2012, or maybe it was the fact that Campbell and Blair repeated their performances from the 2015 IPC World Championships in Doha, Qatar.
Each athletes winning throws were season bests and the third consecutive world championship victor for Campbell, whose victory earned Judge a medal as well.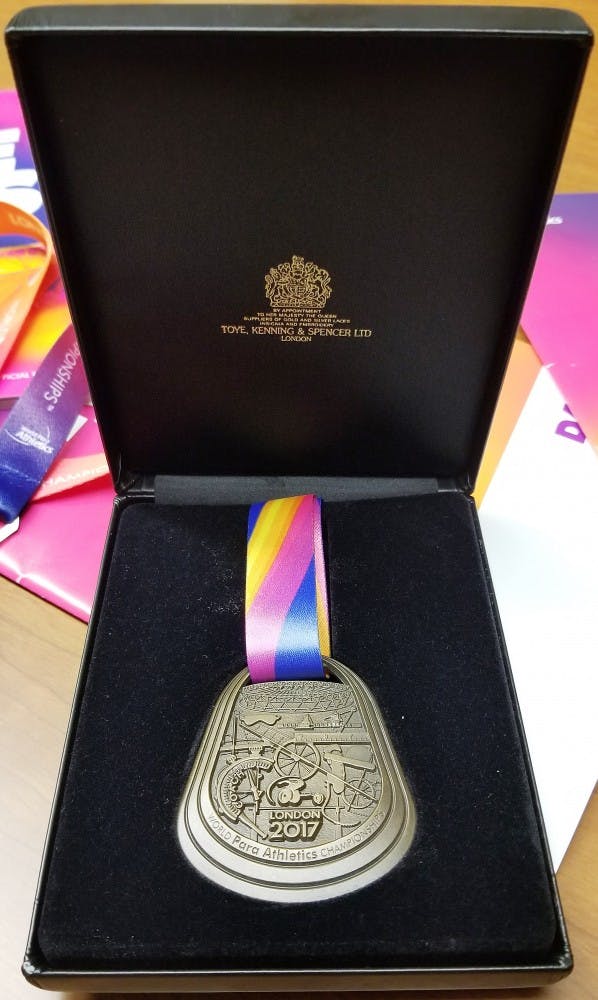 Two medals were almost three, but Judge's third athlete, Joshua Cinnamo, came just short in the men's shot put F46 final.
"Josh ended up fourth, just missing the medal by about 20cm," Judge said. "It was a very good performance from Josh, just this close to getting a medal."
Back in the United States, Judge and his athletes have time preparing for what Judge said is a "down year," meaning there are no major world championships in 2018.
While it may be a down year in terms of major competitions, it won't be for Campbell and Blair who have discussed interest competing in the able-bodied U.S. National competition.
"It's interesting because one of the goals that Jeremy and David both talked about is being able to compete in the able-bodied nationals," Judge said. "The idea is more inclusion and main-streaming and if those guys can compete as Paralympic athletes in able-bodied events, it just gives that much more recognition and exposure to Paralympics in the U.S."
Judge will be helping his athletes prepare for the national championships, but right now he's focused on taking his most recent coaching experiences and using them in the classroom.
He said everything went right during the trip, the competition, the travel schedule and even the number of warmups taken by his athletes.
These real-world lessons are what Judge has been, and will continue to, teach students going through the Athletic Coaching Education program at Ball State.
"It was just a nice bit of reflection now that we can be done," Judge said. "When our students enroll in the fall, certainly we can have some discussion about this competition and what went right and just use it to kind of frame competition planning, which is an important part of being a good coach."