"Foul Ball, USA, hit the ball the other way, Aruba, uh uh, Jamaica, uh uh Hawaii, uh uh Aloha."
That was one of the chants that the Cowan softball team screamed from their dugout during the 1A Sectional #55 championship game.
But when the seventh inning at Daleville Junior/Senior High School came to a close, those chants turned into cheers as the Blackhawks defeated Wes-Del 5-1 and became back-to-back-to-back sectional champions.
"We're on cloud nine and the sky's the limit for this team," Cowan senior and Purdue Fort Wayne commit McKenna Minton said. "I think we have great camaraderie… It's not just one person going out there and dominating. It's everybody and it takes everyone to win."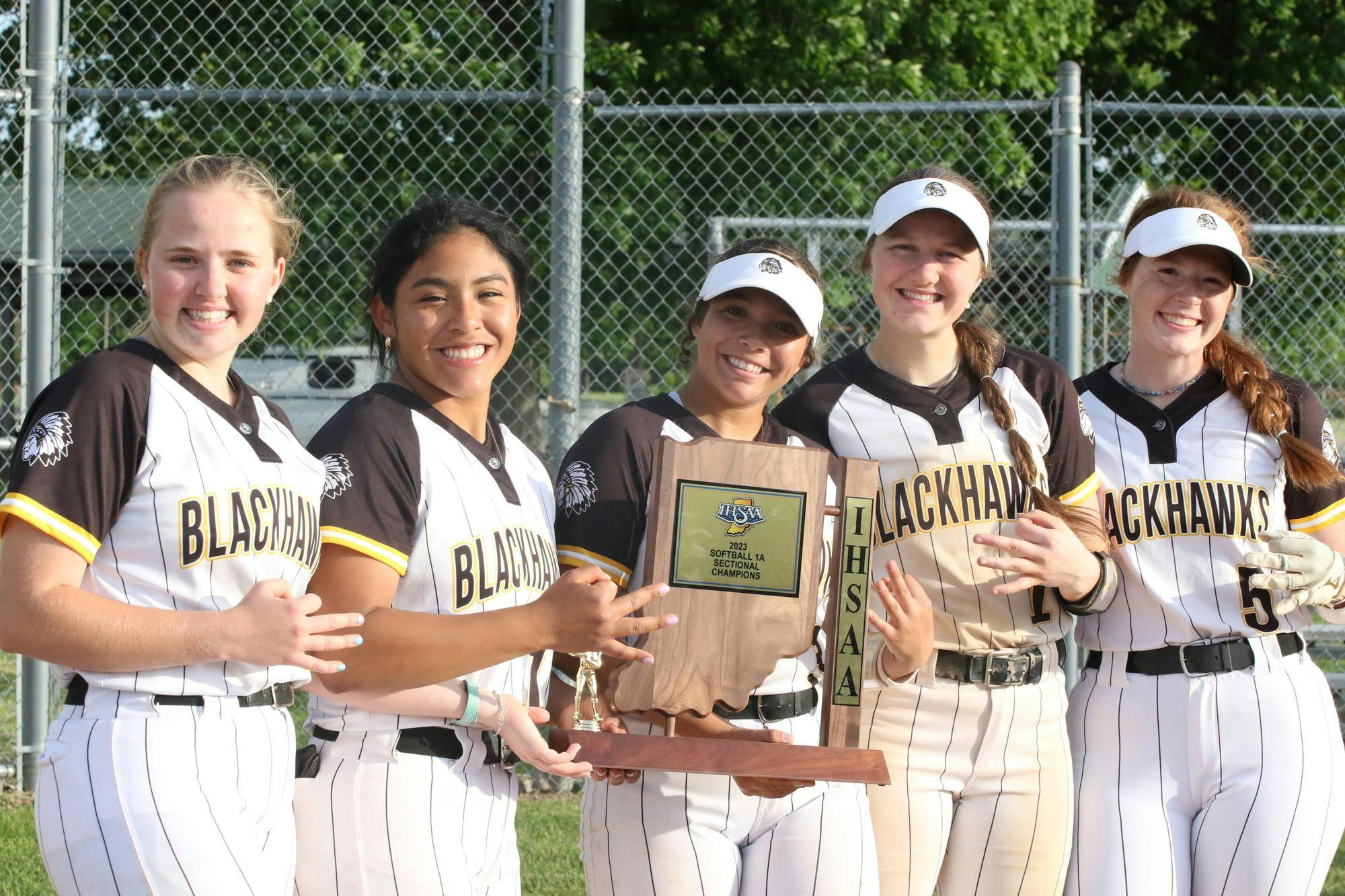 Before becoming sectional champs, Cowan (21-5, 5-2 Mid-Eastern) defeated Daleville (8-11, 2-5 Mid-Eastern) 10-0 in the semi-finals. But in the championship game, it was their defense that carried them to victory.
"We pride ourselves on defense," Cowan head coach Curtis Bynum. "So defense is always our number one thing [that we work on]."
The driving force behind the Blackhawks' defense was senior starting pitcher Tatum Rickert. The Earlham University commit completed the game with nine strikeouts. It is her third straight complete game that she has more than eight strikeouts.
"I am looking to go far with this [streak]," Rickert said. "I want to go all the way to state with this."
On the offensive side of the ball, Minton was a big component as she went 2-for-2. She was the first Blackhawk to cross the plate as she laid down a perfect bunt in the first inning. Later in the game, she smashed an RBI double to extend her squad's lead.
"My job on offense is to get on and when I have that opportunity, I take it," Minton said. "Going into [the game], I was like, this is the sectional championship you know, there's that pressure but at the same time, we're just out here having fun. That's the key to success for our team."
Another noticeable performance on offense was senior Aryonna Bynam. She finished the victory going 3-for-4 with an RBI.
To Rickert and the rest of the Blackhawks, this was a rivalry game. But to understand the reasoning, you have to look back at the whole season. When they met for the first time on April 6, the Blackhawks won 10-0.
Then, Cowan did it again on May 5 in the Delaware County Championship game when they defeated the Warriors (16-12, 3-4 Mid-Eastern) 10-1. Twenty days later, the Blackhawks did it once more.
"We just got a special group of girls that will take no for an answer and come to play," Bynum said. "Hats off to Wes-Del. They put up a fight and you know, we didn't expect anything less. This is the third time that we played them this year and each time it's gotten closer."
The Blackhawks have also won regional championships in the last two seasons. But the question is, can they do it again?
While Bynum wants his team to take it one game at a time, Rickert has an answer. But it's more than just the regional championship.
"I'm willing to say that we can go all the way to state," she said smiling.
The Blackhawks will have to wait to see where they head in their quest for a state championship.

Contact Zach Carter with comments at zachary.carter@bsu.edu or on Twitter@ZachCarter85.