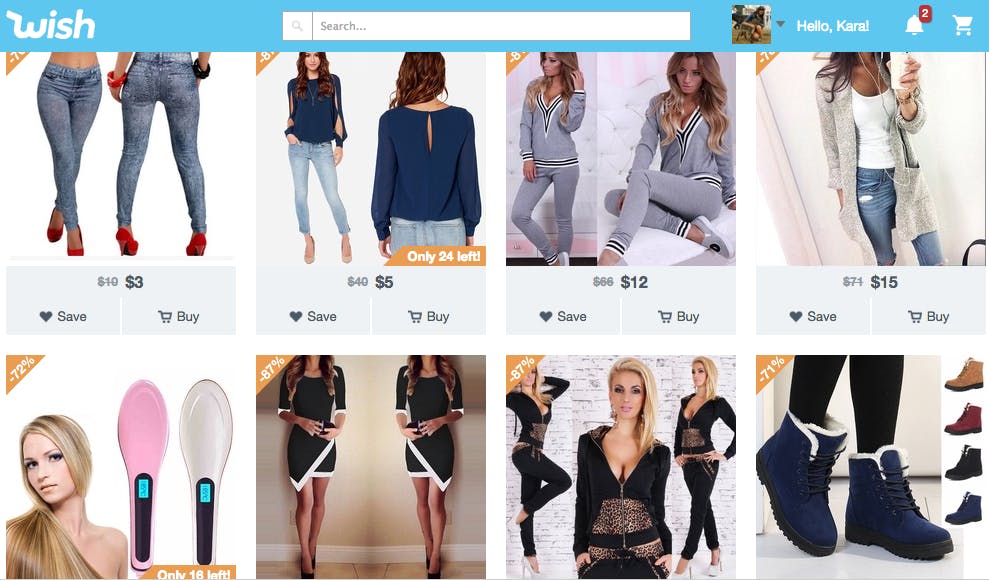 Wish.com is an online shopping site, much like Amazon or Zulily, but it focuses on cheap prices rather than quick shipping. PHOTO COURTESY OF WISH.COM
Wish.com not quite a dream come true
Winter is coming, and we all find ourselves needing emergency scarves, sweaters, and socks.
Most of us also have trouble saving money (it's no surprise,college life is expensive) and even worse, Christmas is just behind the Thanksgiving turkey.
Some of you may have already heard about the sale app and website, Wish.com.
Wish.com attempts to reverse the concept of online shopping companies like Amazon or Zulily, focusing on prices rather than shipping speed. Everything is cheap, but it also arrives a while after the initial order. Wish uses a system of connecting vendors to buyers, often trying to remove the middle-man. This leads to its cheap prices. Most of these vendors are in Asia, where the cost of production is low. The product quality varies from vendor to vendor.
I recently found out about the infamous/famous (depending on who you ask) app, and ordered a few things. My experience with it has varied depending on what I've gotten.
Here is some information from my experience that may help you make decisions about this app before spending too much money.
Wish has an interface that is very simple on phones. You can check the sidebar for notifications on sales catered to you or check your order history, among other things. You can even invite friends or contact customer support from the sidebar.
Tabs easily let you look at latest products, accessories, or specific clothing types (bottoms, tops). Each item has a display for you to tap and check out, with multiple pictures for you to see versions of a product (color and size) and even pictures of people who've bought the product using it. It's helpful to see how products fit on real people, not just the vendor's Photoshopped images. You can save products to wish-lists on your profile or share them via a link.
The product can be reviewed by buyers with a star system at the bottom of the main interface, giving you peace of mind on whether or not to order.
Here are a few experiences so far using Wish. Some "wishes" have been granted perfectly well, while others have not.
I ordered a pair of workout shorts and warm pants recently and they both arrived within the estimated time of arrival I was given. Patiently I waited and got what I ordered. The quality of the pants was reflected in the style — I certainly did not look like the model in the advertising photograph.
The shorts I ordered (from a different vendor) were actually of pretty good quality. Both products were made of synthetic fibers, but because they were workout clothes, I didn't fret too much.
My worst experiences actually came from my orders for small items. The first hat I ordered (a stylish drooping beanie for when I need to be warm and out of the mainstream) took an eternity to arrive — about two or three weeks after the ETA. This was in addition to the waiting time of about three weeks from original order date. The hat looks nice, and I only paid $2 for it (including shipping) so I can't be too upset.
Wish even offered me a refund after about a week of it not arriving. I really needed my hipster beanie, though, so I waited.
I've come to notice that depending on vendor, Wish will give you more appropriate updates. The notifications for the original pair of workout shorts I ordered updated me on every providence or state it landed in. My beanie notifications, however, only told me that it was in transit.
To test out how varied my buys could be, I ordered about 10 different gifts for people here on campus. Some are already landing in America and should be here in a few days, others are simply "in transit." It's exciting to see each one update as time passes.
The best thing to do with every product you order is to check the reviews on each vendor. The app performs well and if you are going to be preparing for Black Friday and Christmas, Wish is more than useful in getting little gifts and deals for yourself this upcoming season.
Go out there and grant some wishes!