Ball State alumna Stacey Lee Webber's art is featured until Sept. 20 in the Atrium Gallery. Webber graduated from Ball State in 2005 with a Bachelor of Fine Arts. Stacey Webber, Photo Provided
Just inside the Atrium Art Gallery lies an electric drill whose coppery sheen hints at a purpose beyond that of a tool for construction. When looking closer, the carefully welded object is clearly made from an item that we rediscover under our sofa cushions, eagerly pick up off the street or leave forgotten in the depths of our pockets: pennies.

This drill is one of numerous pieces of artwork on display made by Ball State alumna Stacey Lee Webber.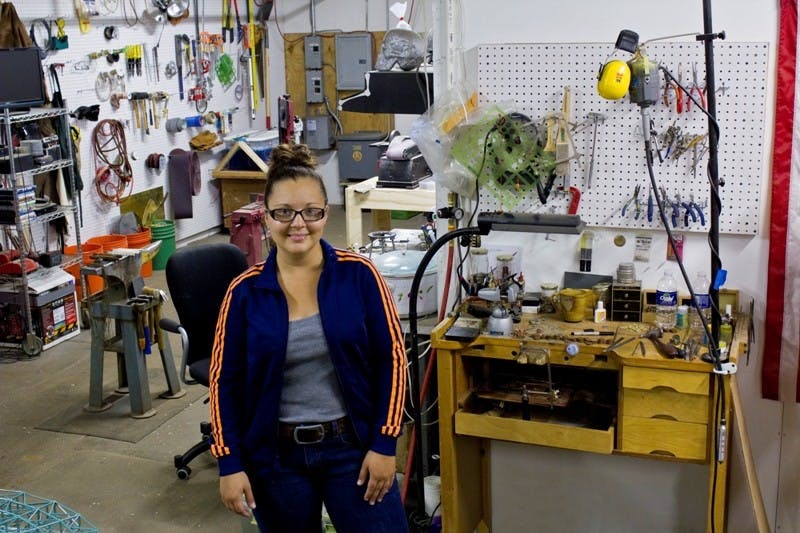 Webber graduated from Ball State in 2005 with a Bachelor of Fine Arts in Metals. She then attended graduate school and took a job teaching art in Milwaukee, Wisconsin before finally pursuing art full-time.

The idea to feature Webber's work at her alma mater grew from an opportunity she was involved in last year that allowed the works of Ball State alumni and faculty to be displayed in one exhibit, said Arne Flaten, director of the School of Art.

This year, a variety of Webber's art from different creative stages are on display. While the creation of the penny drill was sparked by an economic downturn, that creation lead to further currency transformations such as embroidered dollar bills, quarters crafted into necklaces and coins used to create pictures and landscapes.
"It's just an honor." Webber said. "It's just cool, a full circle kind of moment."

Webber's newest collection, "Specimen Series," is on display as well and is based around the idea of "recontextualizing three-dimensional objects into two-dimensional pieces." Objects such as chains, padlocks, basketball hoops and even baseballs are broken down into two-dimensions for this series.

"I try to give people a different view of objects they see every day," Webber said.

Webber's work has been featured in numerous trade and craft shows and has even been in the "40 under 40: Craft Features" at the Smithsonian American Art Museum's Renwick Gallery in Washington, D.C. Without the encouragement she received from Ball State Professor of Metals Pat Nelson, Webber may not have tried to make a living out of metals and art, however.

"She's almost like my second mother," Webber said. "She kept my ambition alive."

She now lives on the east coast and works out of her and her husband's studio based in Globe Dye Works which contains artist studios and production facilities for a whole community of artists.

The Atrium Art Gallery will continue to show Webber's work until Sept. 20 when a reception will be held from 4 to 6 p.m. at the gallery.