Madeline Grosh// Photo Provided
Editor's note: Intern Spotlight is a Ball State Daily News series profiling Ball State students and their summer internships. If you have any suggestions as to who we should feature next, send an email to editor@bsudailynews.com.
When Madeline Grosh was looking for a summer internship, she was hoping to find something that combined her photojournalism major with her interests in animals and social media. The 12-week marketing internship with The Alaska Wildlife Conservation Center in Portage, Alaska was the perfect fit.
"It has been a dream since I was 6-years-old to come to Alaska, so it's so exciting that it is actually happening," Grosh said.
As an intern, the Ball State junior is responsible for running various social medial platforms by status updating, planning and replying to any questions, comments, concerns, or reviews. She also writes blogs and newsletters.
With her photography background, Grosh also has the opportunity document a variety of animal programs and events AWCC hosts throughout the summer.
This is the first time the Muncie native has been able to visit Alaska and so far, Grosh says she is loving all the state has to offer.
"I'm completely surrounded, like 360 degrees, in the tallest mountains I have ever seen," she said. There are just giant bodies over water you have to drive past to get to work and there are mountains on the other side and it's just so breathtaking every morning."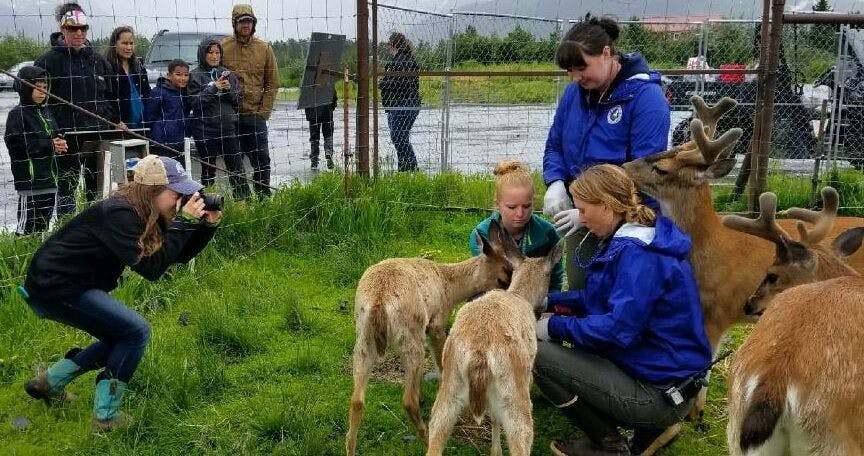 Grosh said working with the animals has been some of her favorite experiences with the center.
"Being able to get into the enclosures with the animals and trainers is so awesome," she said. "The other day I was in an enclosure photographing some Sitka black-tailed deer. All the deer were coming up sniffing my camera and rubbing up against me. It was so cute but also like 'Oh, most people don't get to do this.'"
In her free time, Grosh likes to do some adventure seeking of her own like looking over the Turnagain Arm and the Chugach Mountains or participating in town festivals. Recently, she visited Matanuska Glacier, one of the largest glaciers in the North America.
"I was able to walk on the glacier and I actually licked it too," Grosh said while laughing.
Grosh said she is hoping to get the experience of knowing how to work with a non-profit as well as how animals work.
"This internship is giving me a chance to dip my toes in to different fields," she said. "If photography doesn't work out, then I always have the marketing world to fall back on."
For now, her dream after graduation is to be a humanitarian or wildlife crisis photographer.
"I want to share photo stories with those who can't see the story on their own," Grosh said.
"I have always had a love for taking photographs. I was sitting one day, trying to figure out what I wanted to do with my life and I looked at a picture in Time magazine of something happening in Syria and I remember seeing the photo and thinking 'Wow, that really hit's you emotionally.' I decided I wanted to make people feel and discuss photos like that."
Grosh said she hopes her internship won't be the only time she visits Alaska. Her goal is to one day go back to gain more experience as a professional photographer.