Demi Lawrence is a freshman telecommunications journalism major and writes "Demi's Diems" for the Daily News. Her views do not necessarily agree with those of the newspaper. Write to Demi at dnlawrence@bsu.edu.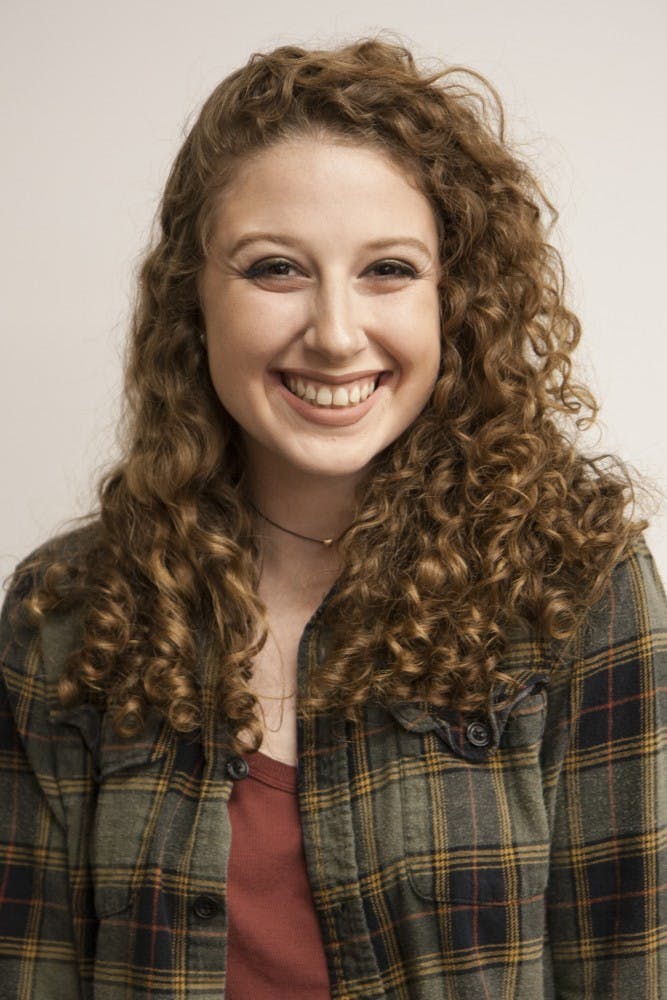 Christmas — the celebration of the birth of Christianity's savior, Jesus Christ. Celebrated every Dec. 25 and preceded by a whole season of bright colored lights, upbeat music and time off of school and work.
I grew up in the Christian faith and so have celebrated Christmas every year for my entire life. Students often call it "Christmas break" rather than "Winter break". I am guilty of that, they're practically interchangeable at this point.
Christmas is a sacred holiday in Christian faith, as it is the birthday of the one true Savior to the world. But as I look around today, I see it as more of an opportunity for corporate America to sell more products, go from red to black and just basically exploit the sacred holiday to their gain.
Don't get me wrong, businesses have to make money, I understand this. But if we only are recognizing Christmas, a religious holiday that is only supposed to be celebrated by those who fully believe Jesus is the savior and God's only son, then what do people who don't believe do during this time? What is it like for other religions to have Christmas thrown in their face when they don't even celebrate it?
I talked with Ball State student Richard "Mac" McKinney about this topic. McKinney himself practices Islam, and he described to me the Islamic celebrations of Eid and Ramadan.
Ramadan is a fasting period, lasting a month, celebrated by Muslims in reverence to the prophet Muhammad and his first revelation of the Quran, the religion's holy text. During Ramadan, Muslims are to fast from dawn to until sunset for 29-30 days. When it is celebrated changes from year to year.
Ramadan is celebrated on the ninth month of the Islamic, or lunar, calendar, so the next Ramadan will be celebrated from May 15 — June 14 in 2018.
Eid is another celebration in the religion, and is actually two different celebrations which I did not know before talking to McKinney. There is Eid Al-Adha and Eid Al-Fitr, and Eid Al-Fitr is celebrated directly after Ramadan as somewhat of an end-celebration of Ramadan. McKinney described the celebrations of Eid Al-Fitr to me as "a lot of eating and gathering of friends, family and gift giving. Just like at Christmas is for non-Muslims." I found this comparison incredibly interesting, because, like I said Christmas, seems to be the default religious celebration in America today.
I then asked McKinney how he felt having Christmas shoved in his face when he doesn't even celebrate it, and that's when I learned part of McKinney's long and inspiring story.
According to an article written by College USA Today, McKinney hasn't always followed Islam. He actually used to hate the religion, so much so he had devised a plan to blow up a local mosque.
While this plan thankfully never went through, McKinney had full intention for it to.
McKinney's journey with Islam began with his daughter coming home from school and telling about a fellow student's mom picking up her son, who was McKinney's daughter's classmate, and she was wearing a niqab. This sent McKinney into a fury for his daughter being subjected to "those people". But after seeing his seven year old daughter's confusion at his dismay, he began to rethink his ideas on the Middle Eastern religion.
After a visit to his local Islamic Center, many years of studying the religion, and sadly many family members and friends "long gone" due to his conversion, McKinney is now a devout Muslim.
Going from once celebrating Christmas and despising the Muslim faith to now celebrating Islam in its fullest was McKinney's journey. But the rest of his family and his nation did not follow. Regardless of how many holidays take place during the months of November, December and January, the holiday season is hallmarked by a commercialized rendition of Christ's birthday.
"As a Muslim, we have no right to get upset at non-Muslims celebrating [Christmas]," McKinney said. "Yes, it has become commercialized, but honestly, a Muslim should not have an opinion either way. We should respectfully accept the fact that not everyone is a Muslim, just as we want them to respect our practices."
I then asked if he believed people respected Muslim practices as he respects other religions' practices. "Deep down, I don't feel they do," he answered. "I think that it is just because they don't understand."
That one really got me thinking. I know plenty of non-Christians who celebrate Christmas, and I can only guess that it's an excuse to gather family, take time off work and give/receive hefty gifts. So why do we respect and put Christmas on such a high pedestal, yet a Muslim does not feel like he gets the same in return? Aren't we all just doing the same thing -- celebrating our beliefs? Where is the line drawn?
But regardless of where that line is drawn, maybe we should strive to cross it. Maybe we should crave the understanding of what it means to give and receive, to understand and be understood.
McKinney went on to say that the best way for people to understand Islam is to befriend a Muslim and really begin to understand the religion to its core. Another way he mentioned is to just read the Quran. Something so simple and elementary, yet McKinney said it as one of the main ways to begin to comprehend the religion.
What I understood from McKinney and his story goes back to a common known phrase I have always loved: The opposite of fear is knowledge.
Be informed, learn about something you fear or don't understand. As a practicing Christian, I know I definitely learned something from McKinney about Islam and the Muslim faith community as a whole. McKinney told me that people misunderstand Islam because they are "stuck in their own echo boxes", and I could not agree more.
It goes all the way back to Christmas being what is thought of as the default religious holiday.
This is not me trying to call out my own religion. I celebrate Christmas warmly and willingly, and I do my best to see it for what it truly is: the birth of my savior. This is more me just calling to action the shortcomings of America and in how we celebrate such a sacred event.
We talk nonstop about Christmas it seems like. We set up decorations and trees, attend mass for the first time all year (I call those people Chreasters — strictly Christmas and Easter church goers) and buy pricey gifts for others that put us into quite a budget crunch for the upcoming new year.
But what we need to understand is that Christmas is not the only holiday. For Muslims, Eid and Ramadan exist. For Jews, Rosh Hashanah and Hanukkah exist. Why don't we
commercialize and celebrate those in the same manner we do Christmas? Is it because the date of the celebrations is not consistent from year to year? Or is it because we simply just don't care?
If we are going to celebrate Christmas and revere it as such a special time in society, we need to do it for the right reasons. Not only that, but we need to revere other religious holidays just the same.
So I will continue to sing my "Away In A Manger" and "Silent Night" tunes as Dec. 25 rolls around. I will continue to go to Christmas Eve mass as I have for the past 18 years of my life, and this Christmas will come and go as normally for me and my fellow Christians.
When Ramadan and Eid come about, though, I will remember McKinney and I will remember how uncommercialized and uncelebrated other religious holidays are by the general public society. And I suggest you do too.